Acoustic panels & Sound proofing products
JJM 080
An acoustic panel with a thickness of 80 mm in two basic sizes: 120x60 and 60x60.
With a wood structure and sound-absorbent core made from synthetic fibre and acoustic fabric.
Standard acoustic fabric range in 8 colours and 23 other optional colours.
What is it?
The JJM 080 acoustic panel is a sound speed absorbent panel with a thickness of 80 mm, built professionally and with excellent broadband sound absorption qualities, meaning it can work throughout the entire range of frequencies. It is the ideal option for the acoustic treatment of primary sound reflection points and the elimination of flutter echo.
The JJM 080 acoustic panels are made from a rigid wood structure that incorporates a set of eyebolts so that they can easily be hung on walls or ceilings. As easy to install as hanging a picture.

Their high sound absorption capacity is due to their NOVEL, HIGH-DENSITY, sound absorbent core made from 100% recyclable PET fibres and completely free of stone wool, along with a rear air chamber that not only increases absorption in the low frequency range but also allows the panel to be installed perfectly flush with the wall.

They are supplied in two basic formats; 120 x 60 cm and 60 x 60 cm, for adaptation to most areas and they can be made to size, depending on the specific characteristics of each area.
The JJM 080 acoustic panel covering is made from the highest quality acoustic fabric and is available in a wide range of 8 colours, with an optional chart of 23 additional colours.
Characteristics
Double wood structure with an air chamber to maximise sound absorption.
With an ecological, sustainable soundproofing core made from high density polyester fibres that are 100% recyclable.
Non-woven core that contains no mineral fibres or toxic compounds (formaldehydes). OEKO-TEX Standard 100 certification.
Non-Toxic, non-irritant, hypoallergenic and odourless.
Textile covering with 100% recycled polyester acoustic fabric and OEKO-TEX Standard 100 and EU Ecolabel certifications.
Extremely durable and with high shock resistance.
Core Airflow resistivity (GFR): 11.800 Pa*s/m²
Absorbent core fire rating: Class B,s1,d0 (EN13501-1)
Acoustic fabric core fire rating: Class B,s1,d2 (EN13501-1)
Broadband sound absorption - Class A (ISO 11654)
Of the highest quality, hand-made and assembled in our workshop in Barcelona.
What is it used for?
Our JJM 080 acoustic panel is the most versatile option for correcting reverberation and controlling primary / secondary sound reflections, dramatically improving clarity in rooms where precise sound control is required by means of a professional, high quality product with a pleasing appearance.
These panels are widely used for soundproofing in control rooms, test rooms, high-end environments and cinema theatres.
Their high acoustic performance, versatility in installation and multiple finish options not only bring benefits in musical production environments, but also make them very useful in ensuring acoustic comfort in restaurants, hotels, offices, offices, classrooms, churches, etc.
Important!
The JJM acoustic panels are usually shipped within 5-7 working days for standard fabrics. However, when our plant is busy, orders may take up to 10-15 days to process. Please don´t wait until the last minute to place your order!
What format does it have?
Panels of: 1210mm x 610mm or 610mm x 610mm - 80mm thick
Colours: 31 fabrics to choose from, 8 standard + 23 optional.
Extended cover: 0,37 m2 / 0,73 m2
Unit Weight: 2,9 Kg.(60cm) – 5,2 Kg. (120cm)
Installation
The JJM panels are usually installed vertically, horizontally or hung.
See the 'INSTALLATION tab for more details of each option.
Standard fabrics:
Havana
Blizzard
Slip
Aruba
Calypso
Montserrat
Ocean
Adobo
Optional fabrics (surcharge per panel: + 8€) :
Solano
Lobster
Belize
Tortuga
Bridgetown
Tarot
Tequila
Sandstorm
Oyster
Rum
Buru
Paseo
Martinique
Marianna
Bluebell
Scuba
Steel
Apple
 
Campeche
Costa
Sombrero
Windjammer
Madura
 
Our engineers are at your disposal to offer you advice and tips about the most appropriate acoustic design for your particular case. Please don't hesitate to ask us!
Physical properties

Technical Drawing

Description: Acoustic panel with fabric
Material: Wood structure, sound-absorbent core made from synthetic fibre
Finishing: Acoustic fabric 100% recycled polyester
Colours: 31 fabrics to choose, 8 standar + 23 optional
Certificates: OEKO-TEX Standard 100
Fire rating:

Core: Clase B,s1,d0 (EN13501-1)
Fabric: Class B,s1,d2 (EN13501-1)
Sound absorption
Absorption coefficients in octave bands (ISO 354):
| 125 Hz | 250 Hz | 500 Hz | 1 kHz | 2 kHz | 4 kHz |
| --- | --- | --- | --- | --- | --- |
| 0.24 | 0.65 | 0.93 | 0.96 | 0.98 | 1.00 |
* absorption coefficients in third octave are available in the data sheet.
Global coefficients:
| | |
| --- | --- |
| NRC | 0.90 (ASTM C423) |
| SAA | 0.88 (ASTM C423-09a) |
| α mid | 0.95 (DB-HR) |
| α w | 0.95 |
| Class | A [ISO 11654] |
Installation
The JJM panels can be easily and quickly installed by either hanging them on the wall or the ceiling like a picture using our assembly kits.
Wall mount – vertical position
Use the plugs and hooks supplied with the panel to install them like a picture. Fasten the hooks to the wall leaving a space of 50 cm between each.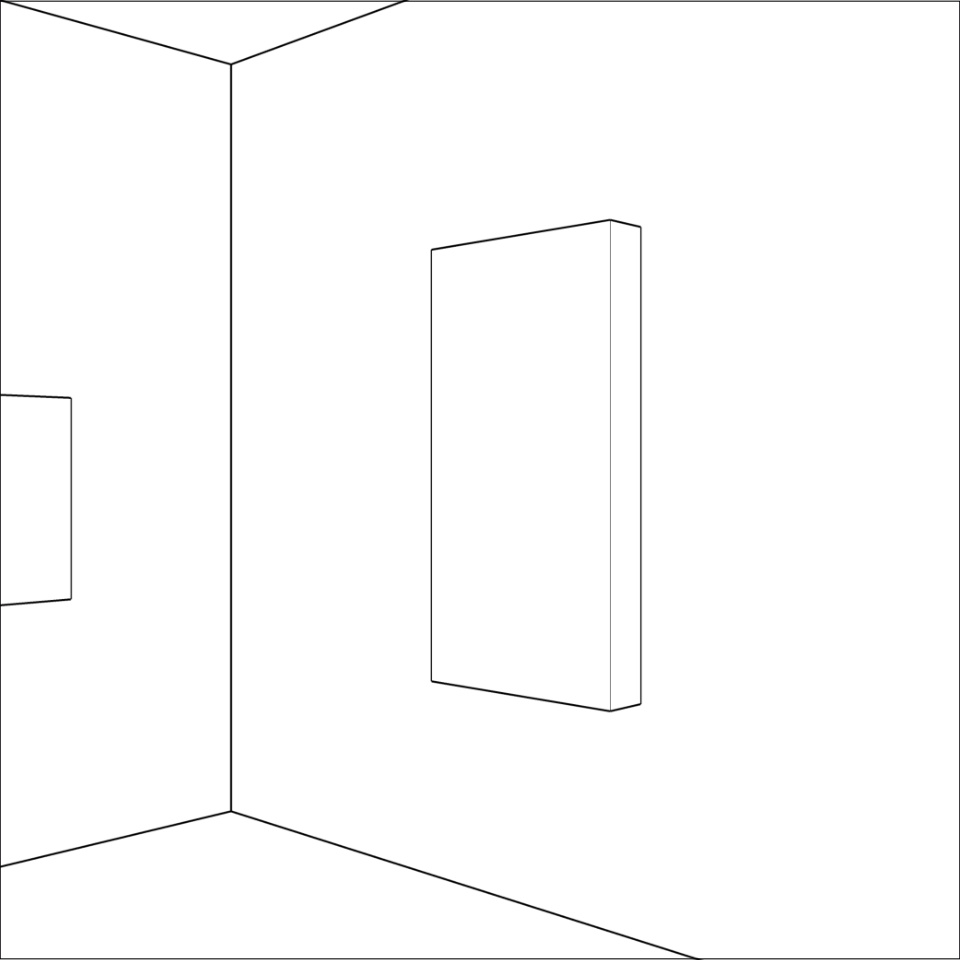 Wall mount – horizontal position
For this type of assembly, the standard eyebolts of the panel structure have been replaced with perforations that enable the panels to be hung from the hooks. This way, the hooks are fastened to the wall leaving a space of 58.5 cm between each.
Ceiling mount – hanging kit (+ 10,75€)
The ceiling mount kit includes adjustable systems to hang the panels from the ceiling with a margin of 5 cm – 10 cm from the ceiling. In addition, the system allows the height to be adjusted individually in each fastening, with the option of installing the panel with the desired inclination, depending on the case.
For this installation system, fasten the 4 eyebolts included in the kit to the ceiling, creating a grid with a separation of 50 cm and 58.5 cm, respectively.