Acoustic panels & Sound proofing products
Streckkod BT
Bass traps with wooden finishingz, 595 x 595 mm (thickness of 139mm).
Boxes of 2 units to cover up to 0.71m2. Made by foam core and wooden panel.
Optimal acoustic performance for control and mastering rooms.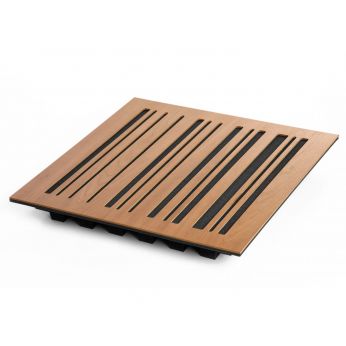 What are they?
STRECKKOD BT is a bass trap designed to complement at low-end frequency bands for the STRECKKOD family of panels, in the acoustic treatment of control rooms, mastering, home studios, etc.
It is part of the Streckkod product range
STRECKKOD BT is a bass trap based on a core of high-performance acoustic foam, which provides a base with a high sound absorption capacity, which incorporates a wooden panel that acts as a resonance membrane, improving absorption at the lowest end of the frequency range. The wooden panel also presents a series of grooves based on a mathematical MLS diffusion sequence, providing the product with a combination of absorbent zones and reflective zones that transform excess absorption of the core at high frequency into sound diffusion capacity, therefore maintaining the appropriate definition of the room.
The wooden basstraps are available with varnished 'Nordic', 'Cerise' or lacquered in white or black colors.
Acoustic techniques it includes
High-performance foam core with air chambers that improve its absorption capacity by 20%.
Exclusive design of the core that optimises the efficiency of shipping, reducing the volume by 30%.
Wooden resonant panel that increases the low-frequency absorption capacity.
Grooved design on the wooden panel using an MLS sequence, providing a degree of spectral sound diffusion (without affecting the phase of the wave) while maintaining the definition of the room.
What is the application used for?
STRECKKOD BT is the perfect solution for the control and reduction of low-frequency reverberation and reduction of standing waves in music studios, control rooms, mastering rooms, Hi-Fi, radio / television studios, etc.
They're the bass traps to complete the acoustic treatments with STRECKKOD panels.
What is their format?
Basstraps measuring: 595mm x 595mm x thickness of 139mm
Colours: Nordic, Cerise, White or Black
Boxes of: 2 units. - area coverage = 0.71 m2
Normal packaging: 63cm x 34cm x 65cm (0,14m3 / 5 Kg.)
Available Finishes:
Nordic
Cerise
White
Black
If you have any queries, contact us! Our acoustic technicians will be able to assist you.
Physical properties

Technical Drawing

Description: Basstraps with wood
Material: Core of ZHFR acoustic foam
Finishing: Varnished or lacquered wooden panel
Colours: Nordic, Cerise, White or Black
Composite: Flexible open-cell polyurethane
Density: 28 Kg/m3 (ISO 845)
Porosity: 3.5 L/min (ISO 4638)
Resilience: 40 % (ISO 8307)
Fire Rating:

Self-extinguishing (UNE 53127)
E-d0 (UNE-EN 13501-1)
Sound absorption
Absorption coefficients in octave bands (ISO 354):
| 125 Hz | 250 Hz | 500 Hz | 1 kHz | 2 kHz | 4 kHz |
| --- | --- | --- | --- | --- | --- |
| 0.75 | 1.00 | 0.75 | 0.68 | 0.64 | 0.56 |
* absorption coefficients in third octave are available in the data sheet.
Global coefficients:
| | |
| --- | --- |
| NRC | 0.75 (ASTM C423) |
| SAA | 0.77 (ASTM C423-09a) |
| α mid | 0.69 (DB-HR) |
| α w | 0.65(L) |
| Clase | C [ISO 11654] |