Acoustic panels & Sound proofing products
Kino FR
Basotect acoustic panels, convex panels measuring 600 x 600mm (60mm thickness).
Auto-installable, mounting attached with Skac Adhesive; sold in units!
Basotect® acoustic foam, in white, light grey or RAL; Fire rating: Class 1, Bs1d0.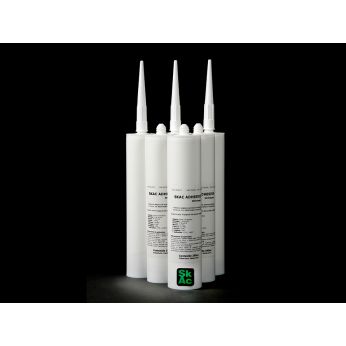 What are they?
KINO FR is an absorbent acoustic panel with a simple, attractive design featuring a gentle convex curve that allows subtle aesthetic patterns to be created. It is a very effective product with a wide frequency range, with performance balanced at medium and high frequency.
It is made from Basotect® (melamine resin foam) flame-retardant acoustic foam, that has high sound absorption capability, high durability and Class Bs1d0 flame resistance, in accordance with the requirements of the regulations for use in public venues.
® Registered trademark of BASF SE
Important!
This Basotect acoustic absorber has a Class 1 (BS 476/7) fire resistance (fireproof).
It is a panel suitable for be installed in public establishments.
What is the application used for?
KINO FR is an acoustic conditioning solution. It is simple, auto-installable and doesn't require any construction work. It is designed to resolve the high-reverberation (echo) problems that often exist in public places such as bars, restaurants, cafeterias, hotels, classrooms, school dining halls, offices, meeting rooms, conference halls, etc., at an economic price.
It is the ideal acoustic panel for acoustic solutions in places with a sound environment mainly characterized by the human voice.
What is their format?
Panels of: 600mm x 600mm x 60mm thickness.
Colour: Light grey, White or Painted (RAL chart)
Sold in units: area coverage = 0.36 m2
Normal packaging: According to units (140g / ut.)
Color option: Painted
Acoustic panels are painted in the colour chosen by the client from the RAL colour chart.
In the tab "Color : Painted" you will find detailed information on thid option's features.
Quantity Discount:
| EURO / UT. | Grey | White | Painted |
| --- | --- | --- | --- |
| 01 a 39 uts. | 35,05 € | 45,75 € | 55,70 € |
| 40 a 119 uts. | 34,35 € | 44,80 € | 54,55 € |
| + de 120 uts. | 33,55 € | 43,65 € | 53,45 € |
How is it installed?
KINO FR acoustic panels are installed without any need for construction works. It's really easy, quick and clean. They are installed by directly attaching them to the ceiling or walls* using our mounting adhesive, Skac Adhesive; you only need to apply the adhesive to the back of the panel, situate it on the surface you want to attach it to, gently press it with the palm of your hand, and in 10 seconds it's installed.

* Walls: It is recommended that the panels are not within people's reach to prevent them from being damaged.
How much do I need?
For a simple and effective solution, we have prepared a mini-guide that will help you to determine easily the panels that you need for your particular case, based on the m2 of flooring surface, room height and the level of comfort to be obtained.
First, we have to choose from three levels of comfort:
| | |
| --- | --- |
| Live | Grade with fewer sound absorbers (less expensive), we get a more lively atmosphere, recommended for bars, cafes, canteens, sports halls, arcades, etc. |
| Medium | Standard grade; a balanced ratio between the quantity and grade of sound absorption; defined to achieve an adequate level of sound comfort for holding conversations without raising the voice in: restaurants, classrooms, and offices. |
| Dark | Higher degree of sound absorption, to achieve the lowest reverberation level; it is recommended for large offices, libraries, waiting rooms, etc. |
Then, based on the comfort level selected above, we will set the % of room surface that must be covered with acoustic panels.
| Height / Grade | Live | Medium | Dark |
| --- | --- | --- | --- |
| up to 3m | 30 % | 40 % | 55 % |
| up to 4m | 35 % | 55 % | 65 % |
Finally, with some simple math calculations, we determine the necessary units of Kino FR panels to be installed.
Area to be covered = m2 of room x % of coverage.
The necessary units of Kino FR panels will be the result of dividing the area to be covered by 0.36m2 (are occupied by one Kino FR panel).
---
Let's see an example:
Restaurant with a total flooring surface of 15m2, which has 100m2 for dinning zone; the total height is 3m in dinning zone.
For this kind of application, we want to get a 'medium' comfort grade; that it's coverage of 40% for spaces up to 3m of height.
Area to be covered will be = 100m2 x 40% = 40m2.
Necessary units of Kino FR panels = 40m2 / 0.36m2 = 112 units.
The quantity calculations indicated above is a simplified selection guide. If you have any question or you want that our acousticians make you a customized proposal, please contact-us!.
Tell us what kind of place this is, size / height and we will make an appropriate proposal for the supply of acoustic panels.
Physical properties

Technical Drawing

Description: Fireproof acoustic panel
Material: acoustical foam Basotect® G
Composite: Flexible open-cell melamine resin
Colour: White or Light grey
Density: 9 Kg/m3 (ISO 845)
Compression resist.: 5-10 kPa (ISO 3386-1)
Traction resist.: >90 kPa (ISO 1798)
Fire Rating:

B1 (DIN 4102-1)
M1 (NF P 92-507)
Clase 1 (BS 476/7)
® Registered trademark of BASF SE
Sound absorption
Absorption coefficients in octave bands (ISO 354):
| 125 Hz | 250 Hz | 500 Hz | 1 kHz | 2 kHz | 4 kHz |
| --- | --- | --- | --- | --- | --- |
| 0.20 | 0.53 | 0.80 | 0.85 | 0.90 | 0.91 |
* absorption coefficients in third octave are available in the data sheet.
Global coefficients:
| | |
| --- | --- |
| NRC | 0.75 (ASTM C423) |
| SAA | 0.77 (ASTM C423-09a) |
| α mid | 0.85 (DB-HR) |
| α w | 0.80 |
| Clase | B [ISO 11654] |
Color option: PAINTED ACOUSTIC PANELS
| | | |
| --- | --- | --- |
| | | The acoustic panels are painted with flame retardant paint, through an exclusive technique developed to not alter the acoustic performance of the panel, thus avoiding the usual loss of absorption capacity that occurs with traditional painting techniques. |
Painting specifications - Skum Acoustics
· Flame retardant paint: Class A, s2-d0.
· Finish: satin.
· Maintains the acoustic performance.
· Available to choose color according to RAL chart.
How to order the painted panels?
1. Make an order with the total of painted panels that you want (minimum order 24 pcs.).
2. Send us an email indicating your order number and the RAL reference/s* that you want.
* It is possible to combine different colors in the same order (minimum 12 units per color).
Color Chart

Below, a small selection of painted panels according to the RAL color chart.

RAL1001
RAL1015
RAL1018
RAL2008
RAL3003
RAL3017
RAL3028
RAL4006
RAL5015
RAL5018
RAL5019
RAL5024
RAL6017
RAL6019
RAL6029
RAL6034
RAL7011
RAL7045
RAL8017
RAL9004
Attention: Please keep in mind that the displayed colours may vary from the real panels depending on the specific properties of your monitor.